VIP Value Books
The VIP Value Books offer special rates at 28 area golf courses. The "Gold" book has 19 clubs including Cobblestone, Golden Hills, and Woodlands for a price of $60. The "Platinum" book includes 9 additional courses including Columbia Country Club, Country Club of Lexington, Spring Valley, and The Patriot at Grand Harbor for a price of $80. When a buyer purchases the "Platinum" book, they will receive the "Gold" book at no additional cost. Both books offer the player three rounds at each course listed in the books for the special rate.
For a full list of participating facilities – VIP Courses
While offering golfers the ability to visit courses at reasonable prices, the Value Books are also a funding mechanism for the South Carolina Junior Golf Foundation. In the first year of this partnership, almost $4,000 was generated for scholarships and junior golf programs throughout the Palmetto State.
As an "early purchase" incentive, anyone who purchases a Platinum book before February 1st, 2017 will receive a complimentary round at Mid Carolina Club.
VIP Books may be purchased at both Koosa Golf locations (Lexington and Two-Notch Rd.), the SCGA office in Irmo, The Spur at Northwoods, Woodlands Country Club, and Par Tee Driving Range.
If you need immediate assistance, contact Happ Lathrop at 803.732.9311.
 

*

$60 Gold Book

* 
Values Include:
19 South Carolina Golf Courses
2 Driving Ranges & Golf Retailers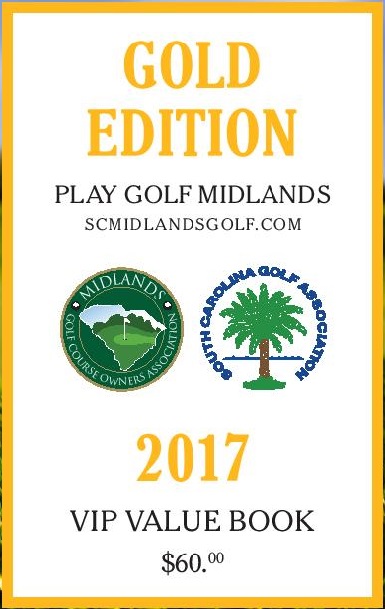 *$80 Platinum Book*
Values Include:
9 Premier South Carolina Golf Courses
PLUS ALL DISCOUNTS IN GOLD BOOK